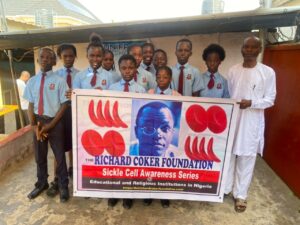 As the 2022 school year rolled to its inevitable conclusion, secondary schools in Lagos seemed to develop a hunger for sickle cell awareness for students. formal and informal invitations poured in, sometimes right in the middle of promotion exams to round up the school year.
With so many schools to pick from, RCF selected to support two public secondary schools and two private in Ikorodu, Lagos State, Nigeria.
Yewa Junior High School
The first port of call was Yewa Junior High School, Aga, Gbasemo, a co-educational public school with a population of 600 students. The sprawling grounds hosted the senior arm of the school (Yewa Senior High School) as well as a primary school, Aga Titun Primary School.
Speaker and RCF representative, Ayoola Olajide  took the audience of staff and students round the subject of blood cells, its shape in normal times and in abnormal times. He further outlined a few of the signs, symptoms and complications of SCD, underscoring the grim statistics of SCD/SCT in Africa's most populous country.
The sensitization talk proved to be an eye-opener for Mr. Saliu Bakare, a tutor at Yewa, who recalled having a daughter with a puzzling abdominal protrusion  and skin paleness, as described by the speaker.
At the end of the enlightenment session, Principal Mrs. Julie Oluseun Adewale gave kudos to RCF for forewarning her students about SCD. 'A talk like this is crucial for the young ones,' she observed. (47) RCF Sickle Cell Awareness SCC AyoOlajide July 2022-YouTube
Oriwu Senior Model College
Practically the same routine ensued at the next school, Oriwu Senior Model College, Igbogbo, on July 18, 2022. A co-educational government-owned boarding model school, the students gathered at morning assembly to listen to a talk bordering on their role as future spouses and parents. Questions were asked and duly answered about a blood condition that directly or indirectly affects virtually every extended family in Nigeria.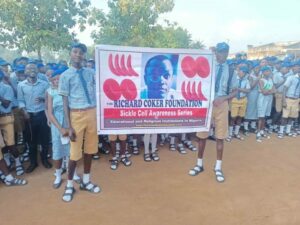 Principal Mr. A O. Bello commended RCF for its outreach to tackle widespread ignorance of genotype and SCD. School Counsellor, Mrs. Adefunke Esan, who doubles as Chairman, Association of Professional Counsellors (APROCON), Ikorodu Zone, pledged to pass RCF's message to her colleagues.
Eunifrance Schools
The management and staff of Eunifrance College, Ikorodu convened an SCD awareness session on the last day of school, July 20 2022. Participants comprised students in Eunifrance's Basic and Secondary School, age ranging from five years to fourteen, their teachers and administrator in tow.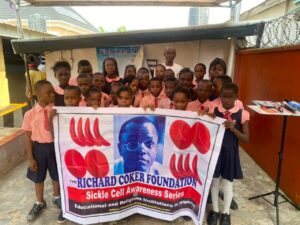 The session at Eunifrance followed the same pattern as at the previous schools with students and teachers asking questions related to genotype and its over-reaching implications. A staff member raised the issue of stigmatization, which the speaker dissected with practical examples. 'What people with SCD need is understanding and acceptance, not pity, not mockery' the speaker said.
School Administrator Mrs. Toyin Akingbade expressed the school's appreciation at being selected for the RCF SCD awareness chat.
Goskia Group of Schools
It was similarly last day of the school year at Goskia Group of  Schools, Benson, Ikorodu on Friday July 22. It was also graduation day. Principal/Founder Pastor Johnson O. Emmanuel invited RCF to minister SCD to staff, students and their parents.
A festive occasion with plenty of dance, music and merriment, you could distinguish the graduating conclave by their customized sashes proudly draped over colorful dresses.
After the short talk on SCD and genotype, Pastor Johnson O. Emmanuel observed that SCD awareness was vital for old and young, married and single. To buttress his stance, he alluded to the experience of a family personally known to him:  ignorant of their status as carriers of the sickle cell gene, the husband and wife produced six children, all with sickle cell anaemia.
Pastor Johnson appreciated RCF for helping to bridge the yawning gap in awareness, a major reason for the incidence and spread of SCD in Nigeria.