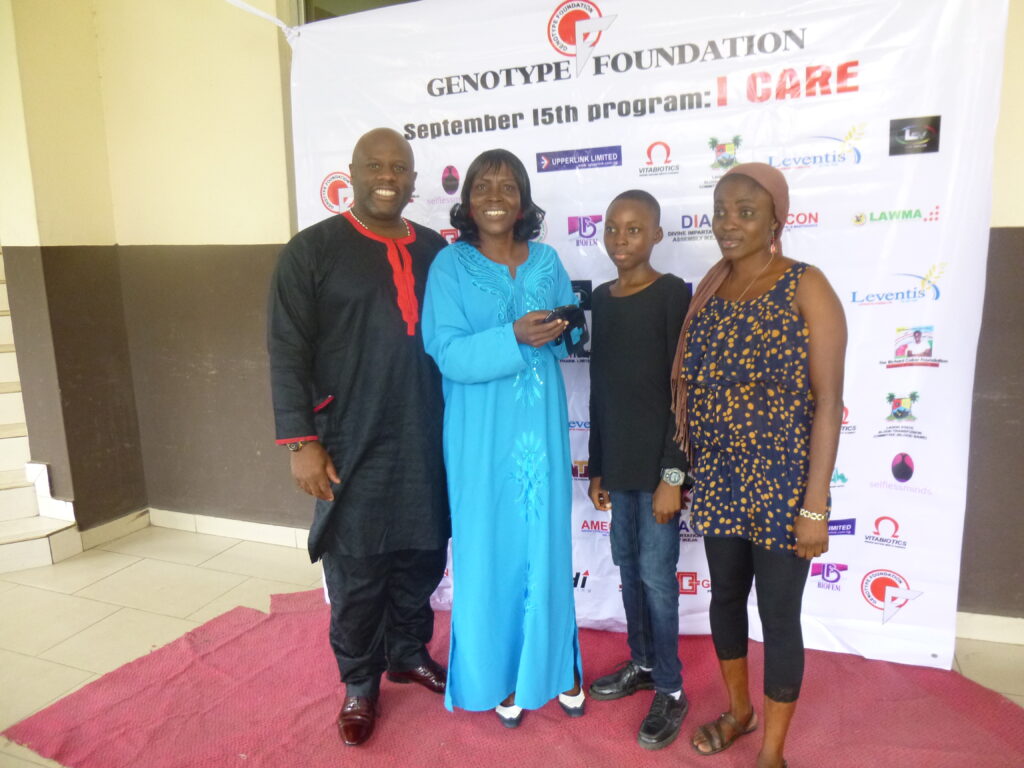 The Genotype Foundation founded by Madame Doris Gbeminoye Ofuyaekpone was established in 1996. The Foundation is concerned with –
Taking care of people with the Sickle Cell Disorder disease
Creating awareness about the Prevention and Control of Sickle Cell Disorder
Blood group Rhesus factor awareness
Malaria control in Sickle Cell Disease
Research and awareness creating on HIV/AIDS in Nigeria (and beyond), through Information, Education and Communication (I.E.C), Screening and Counselling.
The Richard Coker Foundation (RCF) made substantial donations to support their September programme titled "I Care" for blood transfusions which took place at The Lagos State University Teaching Hospital, Ikeja Lagos on the 15th of September 2015.
Madame Doris opened the event attended by 100 guests by speaking about the accomplishments of the Foundation over the past 19 year. Some members at the event acknowledged and told their stories on how they had received help from the Foundation. She also encouraged guests to donate blood. A good number of guests at the event donated blood.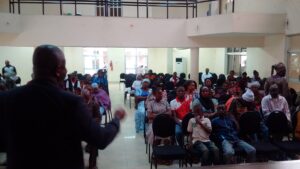 Mr Baba-Jallah Epega on behalf of RCF addressed the audience and commended Madame Doris and her team for all their good work. He encouraged the audience to make healthy choices and stay hydrated. He also said that the Richard Coker Foundation will continue to support the Foundation as best as it can.  Dr Annette Akinsete educated the audience on the management of the Sickle Cell condition and the need to donate blood.
THE SICKLE CELL CLUB IKORODU VISIT
The Sickle Cell Club Ikorodu, a subsidiary of The Sickle Cell Foundation quarterly meeting was organised by Mr Olajide Ayoola at the General Hospital, Ikorodu. The RCF made sizeable donations to support their Sickle Cell News Magazine and the local Foundation which helps to create awareness about the Sickle Cell condition and supports the entire Club members with the condition along with their families.
The RCF team attended their 15th September 2015 meeting and met an audience of about 70  mostly filled with mothers and children who had the Sickle Cell condition. Mr Baba-Jallah Epega sent Madame Julie Coker's best from UK as he addressed the audience, commended their efforts and encouraged them to continue the good fight. He encouraged them to drink lots of water and seek help when needed. He spoke of his time as a brother and carer to Richard Coker empathising with the agonising pain that was felt when the crisis would occur. He also said that RCF would continue to help in the ways they could. The RCF branded bookmarks (50) were given as gifts to the audience.
Mr Ayoola heartily thanks RCF for all the donations made and the time taken to come to Ikorodu. He presented the case of a member, Dr Amina Ogbachi who is in need of a kidney transplant and requires about N2,500,000 for surgery. Mr Epega said that the RCF would also make a contribution to help the cause.